Confused, Which is the best Kent Non-RO Water purifier for Home in March 2023.
Don't worry, after extensive research, we have listed Top selling Kent water purifier without RO.
Why do we need a Water purifier without RO
RO water purifiers are only meant for Hard salty water. Generally, hard water has a TDS above 500.
If the TDS of your tap water is below 500. You don't need an RO water purifier.
What you need is a water purifier without RO.
What are the Types of Non-RO water purifier?
A non-RO water purifier can be categorized into two categories.
UV+UF water purifier
Gravity-based water purifier
If, the TDS of the water is above 250 to 500. You should use a UV+UF water purifier.
On the other hand, if TDS is below 200, you can go with a gravity-based water purifier.
| | |
| --- | --- |
| Water Purifier | TDS |
| UV+UF water purifier | 250 to 500 |
| Gravity Based water purifier | Below 250 |
Top Selling Kent UV+UF water purifier without RO
Following is the list
Kent Ultra Storage Non-Ro (UV+UF) Water Purifier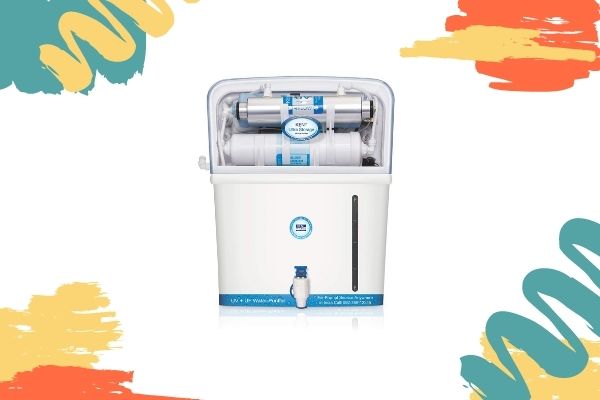 | | |
| --- | --- |
| Brand | Kent |
| Model | Kent Ultra Storage |
| Color | White |
| Capacity | 7 Litre |
| Installation | Wall Mount |
| Technology | UV + UF |
| Purification Process | Sediment Filter + Micro Filter + Carbon Filter + UV Filter |
| Warranty | 1 Year Warranty + 1 Year Free Service |
Kent Maxx Non-Ro (UV+UF) Water Purifier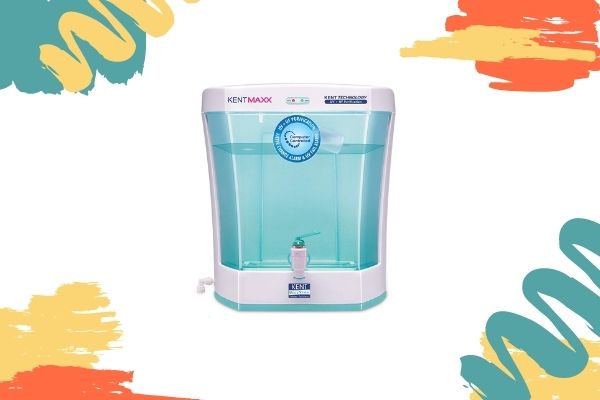 | | |
| --- | --- |
| Brand | Kent |
| Model | Kent Maxx |
| Color | White |
| Capacity | 7 Litre |
| Installation | Wall Mount |
| Technology | UV + UF |
| Purification Process | Sediment Filter + Micro Filter + Carbon Filter + UV Filter |
| Warranty | 1 Year Warranty + 1 Year Free Service |
Best Kent Gravity Based Water purifier without RO for Home
Following is the list
Kent Gold Plus water purifier without RO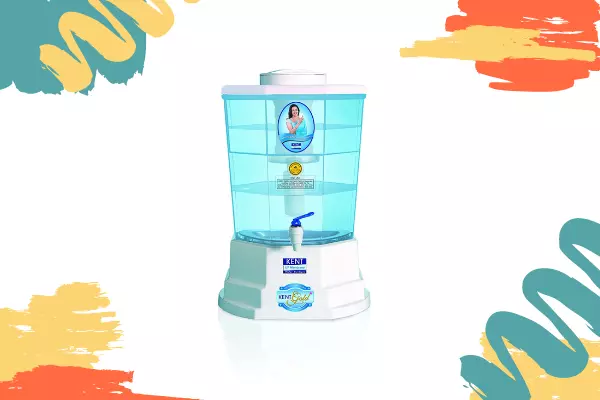 | | |
| --- | --- |
| Brand | Kent |
| Model Number | Gold+ |
| Color | Gree White |
| Capacity | 20 Litre Water tank |
| Installation | Table Top |
| Technology | Gravity |
| Purification Method | Particulate filter + Sediment Filter + Carbon Block |
| Warranty | 1 Year |
Pros:-
Purification by hollow fiber ultra filtration membrane
Use of nano-silver carbon for better disinfection of water
Long life membrane expected to last upto 4000 Litre
Transparent tank made of unbreakable ABS food-grade plastic
High base stand enables easy positioning of glass to draw water
Cons:-
Not suitable for water with high TDS above 400
Kent Gold Non-electric Water purifier without RO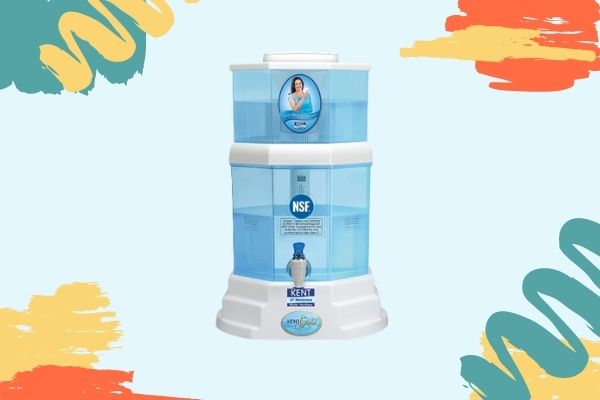 | | |
| --- | --- |
| Brand | Kent |
| Model Number | Kent Gold |
| Color | White |
| Capacity | 20 Litre Water tank |
| Installation | Table Top and Wall mount |
| Technology | Gravity |
| Purification Method | Sediment Filter + Carbon Filter + Ultra Filteration |
| Warranty | 1 Year |
Pros:-
Purification by hollow fiber ultra filtration membrance
Nano Silver Carbon for better disinfection of water
Transparent good looking tank made of unbreakable ABS food grade plastic
High Base for accurate positioning of glass to draw water
Max. dury cycle 120 litre/day
Cons:-
not suitable for hard water
Kent Gold Star non-electric water purifier without RO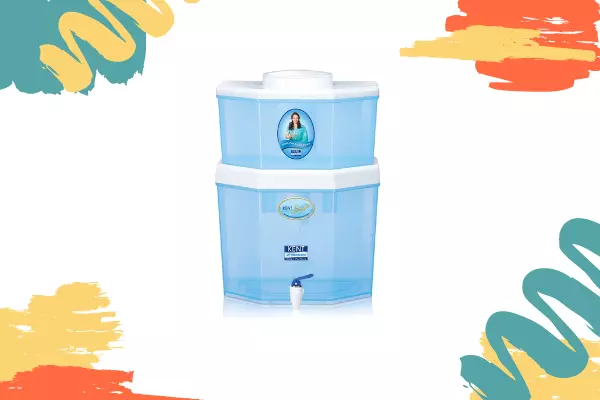 | | |
| --- | --- |
| Brand | Kent |
| Model Number | Gold Star |
| Color | white-blue |
| Capacity | 22 Litre Water tank |
| Installation | Table Top |
| Technology | Gravity |
| Purification Method | Particulate filter + Sediment Filter + Carbon Block |
| Warranty | 1 Year |
Pros:-
Suitable for wall mount and table top
Non-electric and chemical free purification
Food grade and non-breakable construction
Cons:-
not suitable for hard water