Are you looking for the best copper water purifier without electricity in India in September 2023?
See there are Copper water purifiers available in the market but mostly need electricity to run.
The reason is all are based on RO + UV technology and it requires electricity to operate.
Read Here:- Best Copper Water Purifier for home
However, there are some alternatives. I research a lot and have found two products.
Copper water purifier non-electric ( July 2022)
I will discuss two products.
See, Both products are based upon gravity purification technology. once water is purifier it is stored in a copper tank.
Scientifically, it is much better to keep water in the copper tank and let it be charged naturally.
1. Prestige Tattva 2.1 Copper Water Purifier
If you are looking for a copper water purifier that does not require electricity. Prestige Tattva 2.1 is the best option for you.
It is a gravity based filter and uses FACT (Fibrillated Absorbent Cellulose Technology). It has two container. Water, after purification from the upper container, automatically store in lower copper container.
I think, this option is best one than a electricity copper charging technology. As copper container naturally charge water with copper ions.
Lets discuss some of its specifications
| | |
| --- | --- |
| Model Number | Prestige Copper Tattva 2.1 |
| Color | Brown |
| Capacity | 16 litre (8 Litre per container) |
| Material | Food-grade Plastic and Copper |
| Warranty | 1 Year |
| Require Electricity | NO |
| Purification Technology | Gravity |
| Filter & Cartridge | sediment and FACT filter |
| Purification Capacity | 9 Litre/hour |
| Cartridge Life | 1500 Litre |
Pros
Easy to Install
Attractive Design
Low maintenance cost
Enhance Digestion
Stops growth of harmful bacteria
It helps boosts the immune system
Strengthens bones
Slows aging
Cons
Does not suit for hard water and borewell water
only suitable for corporation water
2 Hammered Copper Water Pot Tank 12 Ltr with two Ceramic Candle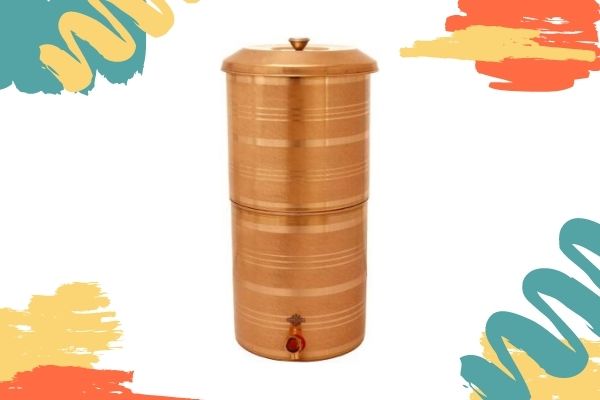 Product General Information:-
| | |
| --- | --- |
| Company Name | Indian Art Villa |
| Material | Pure Hammered Copper |
| Size (Volume) | 12 Ltr |
| Color | Copper |
| Height | 20.5″ |
| width | 8.2″ |
| Weight | 3470 Gram |
Pros:-
Both containers are of pure copper.
Filter technique is pure traditional where ceramic candles are used which are 100% free from toxic chemicals.
No maintenance charges at all. Just change candles after 4 to 5 months. 2 ceramic candles only cost around 250 to 300 rs.
Storage tank capacity is 12 L is quite enough for 4 to 6 Members family.
Cons:-
This filter is not suitable for hard water
The purification process is slow as ceramic candles take time to filter because it is a natural process.